PMP Fine Grout with Grout Additive
For Fine Grout or Self-Consolidating Grout
PMP Fine Grout with Grout Additive is a preblended grout for filling masonry cavities, door frames, and concrete patching and grouting. It is a blend of washed sand, Type II cement 2 1/2:1 and PMP Grout Additive.
PMP Fine Grout with Grout Additive is formulated to achieve a minimum of 2500 p.s.i. compressive strength when placed at an 8-10 inch slump. The Grout Additive gives the mortar fluid properties at a reduced water cement ratio. It also improves the bond and shrinkage compensation.
Uses:
Grouting of concrete masonry.
Cavity walls.
Around window and door frames.
Advantages:
Fluid at low w/c ratio.
Pre-blended-high quality control.
Minimum to no shrinkage.
Superior bonding properties.
Cohesive at high fluidity.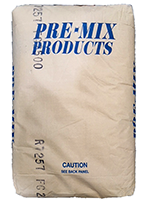 WARNING: This product can expose you to chemicals including Chromium (hexavalent compounds), which is known to the State of California to cause cancer and birth defects or other reproductive harm. For more information go to www.P65Warnings.ca.gov.